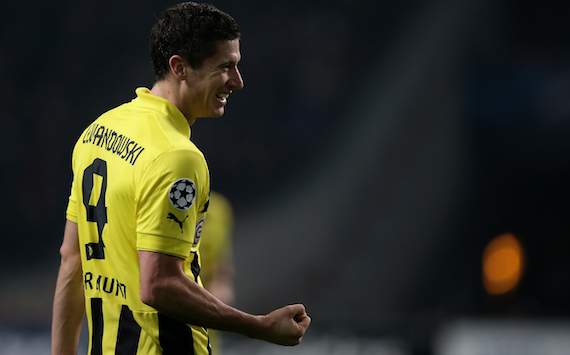 Shakhtar manager Mircea Lucescu claimed that "the winner of this pair will go onto the Champions League final". In the clash of the tournaments two dark-horses, the Westfalenstadion was to bear witness to yet another intense atmosphere.
Dortmund's attacking prowess was displayed early on, Marco Reus played a neat one two with Robert Lewandowski; however Reus's out-swinging cross was diverted for the first corner of the match.
The opening ten minutes saw both sides easing into their respective games. However, it was tough for both Dortmund and Shakhtar as the game was broke up by minor fouls – particularly from veteran Donetsk defender Oleksandr Kucher; bringing down Marcel Schmelzer with an imprudent tackle on 8 minutes.
Dortmund circulated the ball well in the final third, however the pace within Shakhtar's ranks presented a substantial threat on the counter. Henrikh Mkhitaryan, Shakhtar's Armenian forward burst from the half-way line eventually arriving in Wiedenfeller's box; although he failed to seize the opportunity of an early test on Dortmund's goal.
Dortmund themselves displayed their explosive counter-attacking play as well, however the bellicose resistance of Kucher prevented a neat turn from Lewandowski that was building a dangerous Dortmund attack. The first name in the referee's book was Kucher; already on the end of three yellows in Shakhtar's ground campaign.
Approaching the 15 minute mark Dortmund began to increase their grip on possession. İlkay Gündoğan was showing his worth, acting as the axis for Dortmund's swift rotation of the ball. Dortmund's astute ball retention led to a chance for Bender on 17 minutes, however the deep-lying midfielder skied the ball over Pyatov's bar.
Dortmund's domineering style was confirmed by the stats mid-way through the first half, having 61% of the possession. However, Piszczek's lack of initiative in front of goal provided further evidence as to why he changed his former forward role to that of right-back.
Mario Götze's blocked cross on the half-hour mark led to a vital corner. Götze's fierce out-swinging cross found the forceful leap of Felipe Santana, who converted a powerful header past Shakhtar goalkeeper Pyatov and Darijo Srna guarding the near post. Making the aggregate score 3-2 on the night, in Borussia's favour.
Dortmund were proposing a persistent threat down the right flank. The fruits of their persistence were celebrated when Lewandowski's testing cross was guided past Pyatov, by Mario Götze; the midfielder sneaked past Shakhtar's Croation captain Srna to double Dortmund's lead.
The final action of the first half came in the form of an ambiguous cross come shot by Shakhtar's Fernandinho, testing Weidenfeller who had to stretch to divert the ball ensuring Dortmund went in at half-time with a much welcomed clean sheet.
Half-time saw both managers make changes, Klopp replaced Bender with Kehl; Lucescu injected alternative attacking options swopping Taison with Douglas Costa. Lucescu's tactical decision was justified early on as Costa pulled a shot just wide of Wiedenfeller's reach.
With the towering presence of stalwart Kehl however, Dortmund continued where they left off in the first-half; articulating neat passing moves. Błaszczykowski's set to Gündoğan, resulted in a fizzing shot from the young midfielder forcing a fumble from Pyatov allowing the on rushing Błaszczykowski an easy path to Dortmund's third goal of the night. 58 minutes into the second half.
Klopp decided Błaszczykowski's work for the night was done, 10 minutes after he scored he was replaced by Kevin Großkreutz . Soon after his introduction, Großkreutz was in the thick of the action, Reus cut in then set the ball to Götze who became provider for Großkreutz who curled the ball, only for it to be tipped round the post by Pyatov for Dortmund's eighth corner.
Any chance of a Shakhtar resurgence was strangled by the sheer work-rate of Jürgen Klopp's side. Marco Reus tracked back extremely well to prevent a potentially dangerous square ball from Răzvan Raț, after Fernandinho craftily slid the ball through.
After his defensive efforts on 75 minutes, Reus was soon asserting himself at the other end. His in-cutting run by-passed several Shakhtar defenders; his balance was the only thing that let him down as his swiped the ball wide with just over 10 minutes remaining.
Arguably Dortmund's key player on the night İlkay Gündoğan was replaced on 81 minutes for Nuri Şahin. The young midfielder kept the flow of Dortmund's offensive play at the high level, the high level that has ensured Dortmund's expectations have been fulfilled in this year's competition.
The game finished 3-0, ensuring Dortmund's progression to their first Champions League Quarter Final in 15 seasons. Dortmund's players and fans will now have to wait until the 15th of March, when their next stage opponents will be revealed at the UEFA's Nyon headquarters.
Klopp's focus now shifts to the important matter of a Revierderby in Gelsenkirchen on Saturday.