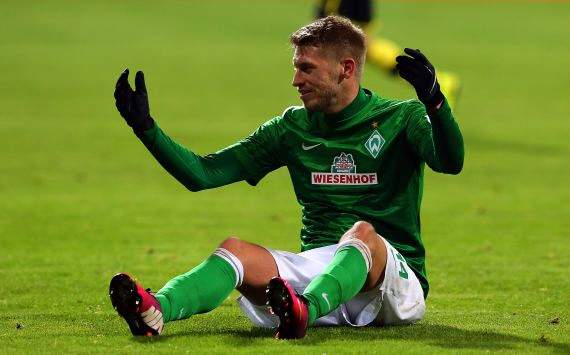 Painful. This is the word that comes to mind after watching Werder Bremen get torn to pieces at home against Borussia Dortmund last weekend.
A five-goal rout left Bremen caught with their pants down at the Weserstadion on Matchday 18, before a further defeat away to Hamburg SV in the Nord-Derby on Sunday afternoon. Dortmund were allowed to rip through Werder Bremen with first half goals from Marco Reus and Mario Götze followed by a goal a piece for Felipe Santana, Robert Lewandowski, and Kuba Błaszczykowski. With ineffective attacking work, Werder Bremen were left with no consolation on the day.
Their woes were compounded at the home of their local rivals, HSV, with Artjoms Rudnevs, Son-Heung Min and Dennis Aogo succumbing Werder to two consecutive defeats, which sees them slip to 12th in the league.
The northern club, that looked fit for top six place finish and a qualification place in European competition, has exceptionally stifled their season in recent weeks. The team has been bouncing between seventh and 13th place for the majority of the season as the middle of the table is shuffled and re-shuffled every week. After being able to stay hot on the trails of competitors such as Borussia Mönchengladbach, Mainz 05, and Hannover 96 in their hopes for Europa League placement, Bremen are experiencing quite a downturn in form.
Werder Bremen's defensive form has proven to be particularly unpredictable. Their last five score-lines in the hinrunde are as follows: 1-4 (loss to Bayer Leverkusen), 4-1 (win over 1899 Hoffenheim), 1-4 (loss to Eintracht Frankfurt), 1-1 (draw with FC Nürnberg), and this weekend's 0-5 loss to Borussia Dortmund. Mathematically, that shows that Bremen have let 11 massive points slip through their fingers from a possible 15. As the saying generally goes: Goals may win you matches, but it is the defense that wins you trophies. In this case, Bremen's "trophy" is a return to Europe next season.
Coach Thomas Schaaf spent much of the first half of the season switching up the back four nearly every week in search of a suitable combination and since gameweek 14 has established a centre-back pairing of Sokratis and Sebastian Prödl with Theodor Gebre Selassie playing at right-back and Lukas Schmitz at left-back. Despite having settled the back line, this defense has had to endure some of Bremen's worst results of the season. Bremen's defense has all the pieces—it is just a matter of whether or not they can put the puzzle together. However, it would be unfair for the defensive line to shoulder all of the blame. Regular goalkeeper Sebastian Mielitz has one of the worst percentages of attempts saved out of all of the goalkeepers in the Bundesliga at 59.04% to date.
While players like Nils Peterson, Marko Arnautović and Aaron Hunt have been racking up the goals and assists, relying too heavily on the offense to outscore the opposition is a particularly dangerous and volatile way to live, especially with a not-so-consistent attack. Kevin de Bruyne, on loan from Chelsea, must continue to be an important source of energy and creativity for Bremen. The youngster, who is wise beyond his years on the pitch, is a crucial cog in the wheel for this squad going forward.
The next two weeks for Werder Bremen include an away trip Stuttgart and a match at home against Hannover 96. If Bremen have any real hopes of rejoining the race to qualify for Europe, the club must take at least seven points from these three matches. Otherwise, Die Grün-Weißen can only realistically set their sights on finishing in the top half of the table.
The second half of the season has begun and it is crunch time for every club. This could still be Werder Bremen's chance to break through the slump they have been in for the past two seasons. With disappointing endings to 2010-11 and 2011-12, the club has ground to recover for themselves and for their fans.
Can they live up to their potential? A massive push of stability and determination could turn everything around for Die Werderaner.
Follow Meghan on Twitter @thefootylady