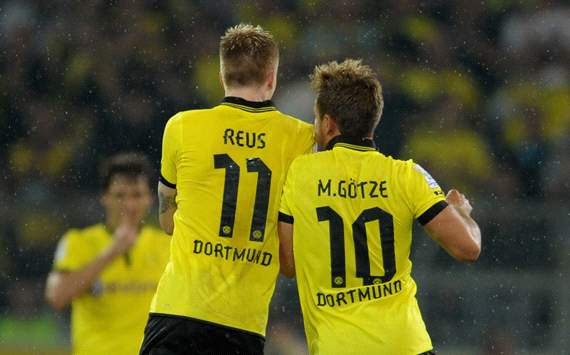 With rumours running rampant and the January transfer window not-so-stealthily creeping up, a plethora of trade options and ideas have been tossed around in every league across Europe. Many a suitors' eyes have turned to Germany as Bundesliga clubs have dominated European competition this term.
German football is currently churning out stars faster than clubs can put down offers for them.  With the abundance of prospects, it is no surprising matter that some of Europe's most prestigious sides are clamoring to sign up some of these Bundesliga players. Borussia Dortmund have understandably become a hotbed of rumours given their sparkling play in the Champions League. Here is a breakdown of some of the biggest targets at the Westfalenstadion.
With Borussia Dortmund being dubbed the "darlings of Europe," several players have caught the eye of various clubs across the continent. Most notably, Polish international Robert Lewandowski is, once again, a major target. Dortmund officials have recently announced that the striker will not be playing another season with the club.
Lewandowski's contract runs out in June of 2014 and Dortmund are looking to cash in on him soon to avoid losing him for free. Manchester City, Manchester United and Juventus look to be the strongest contenders in the race to sign Lewandowski, but Dortmund have denied opening talks with any particular club yet. Juventus have been quite striker-hungry following the club's failure to bring in any of their targets over the summer and eventually ending up with Nicklas Bendtner on loan from Arsenal. 24-year-old Lewandowski's market value (€25 million or £22 million) has more than quadrupled since joining up with the Bundesliga title holders and may be more than the Serie A side are willing to shell out.
Mario Götze has strut his stuff against Europe's elite in the Champions League and it may be paying off. The starlet has reportedly managed to attract the ever-prestigious Barcelona. At just 20-years-old, the German international is marked for greatness and Barcelona appear ready to transform the youngster into a world-class talent. Reports also indicate that Arsenal have shown interest in bringing Götze to London but with a hefty £30 million (nearly €37 million) release clause in his current contract, the move seems less likely.
With continuously strong performances in European play and international competition, Mats Hummels remains linked with Manchester United and, more recently, Barcelona. With the Catalan giants and the Manchester giants struggling more than usual in the defensive end, a swoop for Dortmund's talented defender would not seem so far-fetched. Still, Dortmund are in no hurry to off-load Hummels for anything less than quite a substantial sum as he remains a stronghold in the club's starting XI.Manchester United's Sir Alex Ferguson has rubbished the possibility of the club bringing in players in the winter window, indicating that the club may pounce for Hummels in the summer. According to Transfermarkt.co.uk, there is only a 14% chance of Barcelona picking up this young German prospect.
The January transfer window can be a cruel mistress, often riddled with nothing more than desperation and rash signings. With Dortmund having announced themselves as legitimate contenders in the Champions League, Jürgen Klopp will be very reluctant to sell off any part of his strong squad until summer. However, the winter window often has many tricks up its sleeve and the clubs targeting Dortmund players are well known to make offers that are just too good to refuse. So, keep your eyes peeled and your ears open because you never quite know what January will bring.
Follow Meghan on twitter @thefootylady